South Mississippi Housing Authority
Gulfport, Mississippi
South Mississippi Housing Authority serves a 14-county region across southeastern Mississippi. With over fifty years of experience in Affordable Housing management. The agency currently manages nine-hundred-thirty RAD units in ten counties of South Mississippi. South Mississippi Housing Authority also administers six-thousand-seven-hundred-seventy-three Housing Choice Vouchers (HCV) in fourteen counties that provide rental assistance for families renting property owned by private landlords. In addition, the nonprofit instrumentality of the agency has developed eleven mixed-finance developments, including over one thousand LIHTC units, seventy-six new ACC PHA units, seventy-three senior housing units since 2008, and manages three-hundred-twenty-one non-ACC units.
In the last ten years, the agency has invested more than $34 million on our housing stock, upgrading and making interior/exterior capital improvements and taking measures to become more energy efficient.
Serving South Mississippi for more than 50 years, South Mississippi Housing Authority has district offices in Gulfport, Moss Point, and Hattiesburg.
South Mississippi Housing Authority's staff is comprised of diverse cultural, ethnic, and racial backgrounds. We believe that a diverse staff creates an environment of understanding and awareness, which we recognize as essential to our delivering the best customer service to our residents.
Our
Mission
South Mississippi Housing Authority is committed to providing superior housing services throughout South Mississippi, meeting lower-income households where they are and empowering them to transcend poverty.
Our
Vision
South Mississippi Housing Authority will be a national leader in affordable housing, a development catalyst for South Mississippi, and the region's most successful provider of meaningful and transformational supportive services.
Our
Core Values
To continue our Mission and to achieve our Vision, South Mississippi Housing Authority has dutifully adopted the following core values:
Selfless Service
Meaningful Commitment to Equity & Equality
Holistic Approach to Service Delivery
Accountability to our Program Participants, Communities, and Ourselves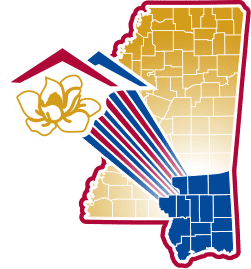 Serving the
Mississippi
Counties of:
Covington
Forrest
George
Greene
Hancock
Harrison
Jackson
Jones
Lamar
Marion
Pearl River
Perry
Stone
Wayne